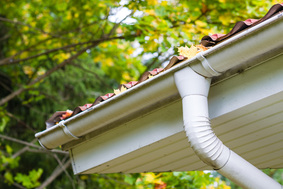 When homeowners start to think about home improvement projects, one of the most commonly overlooked areas are the gutters. Most homeowners do not realize the amount of maintenance that a gutter might need or that gutters may need replacing. Gutters can fill with debris and this debris may corrode or lead to rust in gutters. This causes so much damage that you may need a professional replacement. If you need to replace your gutters, here is a guide to gutter installation.
Before Installing New Gutters
Before you can install new gutters, you have to map out the house and the current gutter system. It's important to determine the length of the gutter run and to calculate how many downspouts are necessary and how long they should be. You will need a list of all of the measurements and the materials in order to have a solid installation.
During New Gutter Installation
Professionals install downspout outlets with 1 and ¼ inch screws. They are not at the end of the run, but close and attached to the end of the house. The company attaches gutter hangars to the fascia and leaves room for the gutter caps. Next, the corners that do not have downspouts are covered. The company can then cut the gutter sections with a saw to fit between the end of the roof and the downspout. They will place caps on the end, snap the gutter sections into nearby downspout outlets. The gutter sections are connected on the ground and use special connectors. The last step is to cut the drainpipes to fit between the elbow joint and the wall joint.
As you can tell, gutter installation is not that complex. A professional can assess your gutters have new ones installed quickly. When it comes to home maintenance, it's important not to forget about gutter maintenance. After all, your gutters perform a necessary function to the longevity of your home.