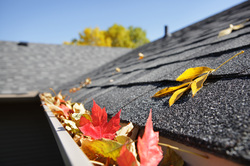 It is essential to maintain your roof's gutter system, as it protects your home from water damage and structural ruin. The gutter system carries flowing water away from the roof, interior and foundation, and improper maintenance will create a backflow or overflow into these areas. Generally speaking, most homeowners are ill-equipped give their gutter proper attention. Here are four reasons to hire gutter cleaning professionals.
Efficiency. Having the gutters cleaned can be a lengthy process, given the location or extensive coverage area. Professionals are familiar with what each system may need, and they are able to quickly assess the work required. Caring for your gutters is a project that must be done right in order to prevent potential damage, and professionals can quickly and comprehensively address your situation.
Safety. Inexperience with roofing, ladders, lifts and cleaning techniques may render a gutter cleaning unsafe for many homeowners. Bringing in a professional team ensures the process is completed with high regard for the safety of property, participants and homeowner.
Convenience. The time-consuming nature of gutter maintenance may be a deterrent for homeowners. It may be difficult remembering how often the gutters should be cleaned. Relying on the expertise of a professional can solve both problems. Scheduled maintenance visits take the worry out of scheduling and the hassle out of cleaning.
Comprehensive Service. By allowing gutter professionals to assist with your cleaning needs, you will receive a bonus inspection each time. These individuals are trained to spot damage or concerns with your existing pipes and drainage system. They can provide a frontline of defense against long-term damage as they work to clean out debris and visually assess the condition of your system.
With a team of professionals providing your gutter cleaning, you can remain confident that your gutters are functioning at their full potential. Holloway Gutter can increase the longevity of your drainage system, as each visit brings experience with quality maintenance and visual inspections.