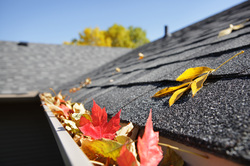 Your gutters are connected to the edge of your eaves in order to capture water and direct the rushing liquid to a downspout that allows it to fall safely away from your home. When a gutter becomes clogged or full of debris, problems can arise that can seriously impact your home's foundation and your security. To keep the building safe, consider these top three advantages of gutter cleaning.
Prevent Basement Flooding
If your home was not equipped with gutters, water would rush off the roofing materials and fall onto the ground next to the building's foundation. As the water builds up, the liquid could seep into your basement or crawlspace. The same over-flow of water occurs when your gutters are filled with leaves or clogged with air-blown debris.
Removal Unwanted Pests
Critters of all type love the water that can fill clogged gutters. Mosquitoes lay their eggs in stagnant water and they can invade your outdoor space. Birds, rats, and mice can enjoy a drink from the available water and then build their nests in the clogged materials. Once they begin nesting, and they use the adjacent gutters as latrines, the area can become ripe with bacteria that can fall into your yard whenever it rains. A gutter cleaning can remove the pests and their nests.
Alleviate Foundation Cracking
As the earth settles around a building, the foundation walls can sometimes develop miniature cracks. When overflowing gutter water flows too close to your home's foundation, the liquid can move into any cracks the walls have. When winter arrives, the water can quickly freeze, increasing the size of the cracks and weakening the wall's integrity.
Diligently Dodge Damage
A gutter cleaning service can help you prevent each of the above problems. The technicians can often do a thorough cleaning in a couple of hours, and by employing their specialized cameras, they can let you know if any other problems exist. Why not give a service a call now and prevent costly repairs in the future.