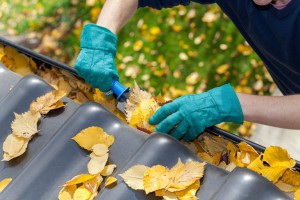 Have you ever wondered whether it's worth the hassle of cleaning your gutters? It can be a time-consuming and frustrating job, but it is one that has to be done. When leaves, twigs, and other debris get into your gutters it can cause a backup where water cannot pass. The water contained in the gutters can cause damage to your home or roof. It might overflow onto your foundation or yard and cause flooding. This is why gutter cleaning is mandatory for homeowners.
To properly clean your gutters, you will need a safe ladder, a bucket, and waterproof gloves. Some people also like to have the use of a gardening trowel. This should be plastic, as a metal trowel may cause damage to the gutter. If it is winter, ice may build up, in which case heat tape can be used to remove the ice and allow easier removal of debris.
Before you begin your gutter cleaning, be aware that gutters are not strong and cannot hold heavy weight. You should use a stepladder or regular ladder to clean your gutters. Make sure that it is on stable ground and avoid moving to the top rungs of the ladder. Be cautious and avoid any power lines or other obstructions nearby.
To begin, you can use your preferred tool or your hands to clean out your clogged gutters. If you notice excess debris or dirt, soak it with water to make removal easier. Loose debris can be removed easily while dry. After you have removed any leaves and debris, use a garden hose to clean out any leftover dirt.
If you notice that your gutters are not draining water, it likely means your downspout is clogged. In most cases, you can check the top of the downspout for debris which is easy to remove. Implementing these practices the next time you need a gutter cleaning will ensure everything gets cleaned up and you can wait another few months before the next go round.