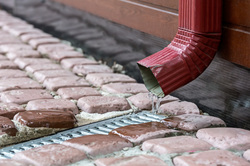 One of the most vital pieces of the gutter system that is often forgotten about by homeowners is the downspout. Unlike gutter cleaning, downspout maintenance is more than just checking for clogs. In areas that are susceptible to heavy rainfalls downspouts are vital to home protection, which is why we've laid out the maintenance musts when it comes to caring for your downspouts.
1. Check Water Distribution
Check your downspouts to find out where water is draining and being distributed. You want to make sure that it's being drained away from your home and not on a slope towards your foundation. If water from your gutter system is draining too close to your home and on a slope that leads towards your home, the system is not effective. The purpose of downspouts are to protect your foundation from water penetration that could lead to cracks, leaking and ultimately flooding.
2. Check For Pooling
One sign that your downspouts need adjusting is if water starts to pool. If there's a puddle of water that's five feet from your home or less, that's too close for comfort. The water from your downspouts needs to be re-directed away from your precious foundation. The problem can be remedied with gutter extensions, which are inexpensive and easy to install.
3. Call The Gutter Professionals
Whether you know you need a gutter extension installed or you just want a downspout inspection, the team at Holloway Gutter is happy to be of service. It's worth the quick and painless fix now, instead of the foundation nightmare that could be the result of downspout neglect. To learn more about the dangers of clogged gutters be sure to check out our article, The 6 Serious Risks of Clogged Gutters.
For help from our experts, click here for a quote.