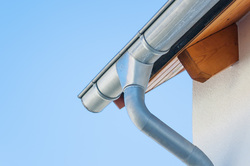 Getting ready to outfit your home with a brand new gutter system? Selecting your gutters isn't as easy as you may think. Today, there are several options when it comes to gutter material. Here's a list of 4 common choices:

Vinyl
Vinyl gutters are a popular choice among homeowners due to their affordability and ease of installation. Vinyl gutters will also never corrode or rust, however they are susceptible to cracking in cold temperatures. One thing to remember about these gutters is that although they're lightweight and easy for the Do-It-Yourselfer, improper installation can lead to sagging and ineffective draining.
Aluminum
Similarly to vinyl, aluminum gutters are lightweight and rust resistant. An added bonus though is that aluminum gutters are weather resistant and won't crack or become brittle like vinyl. Although they're great in a variety of weather conditions, aluminum can bend and dent fairly easily so they do require a little bit of extra attention.
Galvanized Steel & Stainless Steel
Galvanized steel is the most durable option on the market. It won't bend, dent or crack and can withstand the rain, wind, snow and ice, making it popular choice in areas that are susceptible to severe climates. However overtime galvanized steel can rust, which is why there is also the option to purchase stainless steel gutters, which will not rust, however they come at a much steeper price.
Copper
Copper is also a very durable gutter material that will fair well in any weather condition, however it's a pricey option. Another key factor with copper is that the color will change over time. Shiny new copper gutters will turn dark brown and eventually turn a green color so be mindful of those aesthetic changes if you choose a copper gutter system.
If you're ready to have a new gutter system installed in your home or if you just need a routine cleaning, click here for a quote!