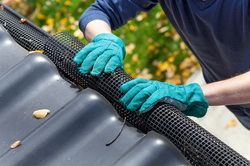 Gutters are crucial for protecting your home and foundation. They also help create a comfortable entryway that doesn't include a rain curtain. Find out how to enjoy a reliable gutter system installation service by working with a local leader in gutters. Use these tips to ensure you work with an affordable, reliable and friendly team in your area.
Ask About Gutter Options
Some basic construction teams and landscapers offer gutter services. Because they aren't specialists, they can't offer the custom features you deserve. Instead of choosing a generalist, work with a team that specializes in gutter selection and installation. This gives you the widest selection of seamless gutters for your home.
Seamless gutters are far more efficient than other options. Instead of bringing individual pieces of gutter to your home, an expert team can create seamless gutters right on your property out of sheet metal. This is a quick way to create custom pieces that are the precise length you need around each side of your building. This reduces material waste and can cut down on the cost of the project.
Look for Customer Reviews
A gutter system installation team is only as good as its reviews. Work with a team that has a proven track record in your community. Ask your neighbors and local businesses if they have any experience with companies in the area. When you find a gutter installation team, don't be afraid to ask them about their history of satisfied customers.
Enjoy Hassle-Free Gutter Installation and Repair Services
From an emergency repair to a complete gutter system installation project, enjoy reliable services when you work with a leader in the industry. Contact a local team today to explore your gutter options and see how you can enjoy a quick, efficient installation. Protect your foundation from water damage and create an eye-catching trim feature on your home.