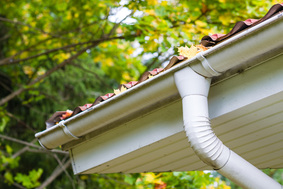 Your home's gutter system plays an integral part in keeping your house and your yard in good shape. Without gutters and downspouts that properly drain and carry excess water away from the structure of your home, you could suffer from damage that leads to a leaky roof, a sinking foundation or a flooded lawn. It's important to have a professional regularly clean, service and inspect these water removal systems in order to keep things in working order.
Checking Gutter Pitch
The slope or pitch of your gutters can lead to poor drainage and standing water. This can result in a host of problems, including mold growth, blockages and even damage. Over time, wind and weather conditions can cause your home's exterior components to shift, meaning your gutter pitch is almost always changing at a slow but steady rate. It's best to have a pro inspect and adjust the gutter pitch twice a year.
Cleaning Excess Debris
A simple but extremely important aspect of keeping your gutter system in working order is having it professionally cleaned on a routine basis. The gradual buildup of leaves, twigs, dirt and other debris can clog gutters and prevent them from working efficiently. If clogs are affecting your downspouts, strainers will need to be installed towards the top to prevent future blockages. Be sure to ask your gutter pro about the products they offer to help protect your gutters from excessive buildup.
Repairing Damage
In addition to adjusting the gutter pitch, it's important to have your gutter experts repair any damage to your system. In general, they will need to patch any holes that have eroded through components, as well as adjust poorly aligned seams that are preventing a steady flow of water. Sometimes the smallest holes or cracks can have a significant impact on your system's overall performance.
Don't neglect your home's gutters and downspouts. Schedule routine maintenance and be sure to have a pro inspect any problems immediately to prevent bothersome and costly consequences.