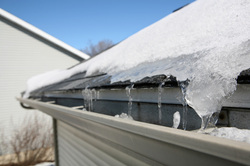 Gutters backed up with leaves, rocks or other debris can lead to catastrophic destruction to your foundation, roof, walls, driveway and even landscape. That is why gutter cleaning is so important to the maintenance of your home and should be done regularly, especially in states that experience all four seasons. Hiring a professional can help prevent these damages and ensuing costly repairs.
Gutter Damage Issues
Many people assume gutters simply carry rainwater from the roof to the ground but pay little or no attention to the falling leaves. Some may consider cleaning them out when they notice leaves piling up, but waiting until this time may be too late for any damage that incurs. Gutters packed with leaves and dirt can lead to the following circumstances:
Leaky roof

Unstable foundation

Interior water damage

Mold and mildew

Pest and rodent infestation
Gutter Cleaning Schedule
It's important to clean your gutters out at least twice a year, depending on where you live. In states that experience heavy rainfall or four distinct seasons, it is especially critical to keep the flow of water down the gutter clear of any blockage. Scheduling gutter cleaning in the late spring and early fall can help with that. There are times you may have to clean your gutter out more, such as when you live in a climate with an icy winter.
Hiring a Professional
Working around the house may sound like a fun weekend project for some, but trying to clean out gutters yourself means you are taking a huge risk. Not cleaning them out properly can lead to disastrous results and expensive repairs later on. A professional knows the appropriate technique to clean out these channels to ensure your home remains free of damage.
Your gutters aren't something you should ignore. So if you are a homeowner faced with the prospect of gutter cleaning, consider hiring a professional to take a huge weight off your shoulders.