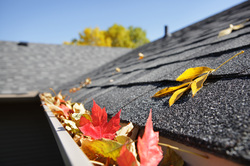 Gutter cleaning can be an extensive process when you do not know exactly what to do and are lacking experience. Fortunately, you can hire a gutter cleaning service to have a professional clean your gutter properly and efficiently. They have the proper tools and equipment to reduce your clogged gutters from causing any damage to your home. If you are wondering how they do it, here are some tips and the equipment the professionals use.
A common drain clogging culprit is leaves and one of the best ways to rid your gutter of the leaves is by vacuuming them away. An industrial vacuum system will be the most efficient because of the power it provides. If you are looking for a quick solution to try yourself, you can utilize the bucket cleaning method. Essentially, you can remove leaves yourself using your hands or a leaf scoop and by placing them in a bucket. This can be an exhausting and extensive process. If you choose to hire a professional, they could use a water pressure hose to quickly remove all the leaves from your gutter.
Keeping your gutter clear of any leaves or debris is extremely important. If your gutter becomes clogged, it can lead to a leaky roof and essentially cause water damage in your home. This can be an extremely expensive repair that could otherwise have been avoided with proper gutter cleaning every so often. If your gutters are neglected for an extensive period of time, rodents or pests can claim your gutter as their home.
Gutter cleaning is extremely important to keep your gutters clear of leaves and other debris to eliminate the chances of it causing a leaky roof or rodents claiming it as their home. If you choose to clean your gutter yourself, it can take an extremely long time because you lack the proper tools that professionals use such as industrial vacuums and water power hoses.