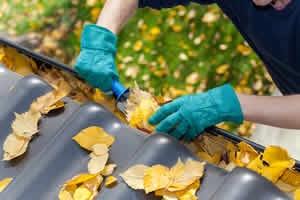 Rain gutters keep your home safe by guiding water away from your house. That is why clogged gutters can be the stuff of nightmares. Thankfully, when you hire a professional gutter cleaning service, you can rest easy knowing your home is safe once again.

Dangers of Clogged Gutters

Over time, gutters can become full of leaves and other debris. It's just a fact and one homeowners should be aware of. But why is it so important? The simple truth is that clogged gutters can result is severe and costly damage, such as the following:

Water under shingles
Damaged foundation
Chipped or cracked paint
Overflowing water
Rusty gutters
How do things like this happen? Simply put, leaves collect in the drainage channels and become stuck, creating a sort of dam that blocks the channel. From there, water won't be able to move through, weeds can grow and the gutters can even become unattached from your house. To avoid these problems, hire a professional gutter cleaning service.

Proper Cleaning of Gutters

Cleaning out clogged gutters is one of those tasks most homeowners grumble about. It's messy, tricky and unsafe. More than that, how can you be sure you're doing it correctly? Do you have the proper tools and equipment to clean out the leaves and debris without causing any damage to your house or yourself?

Hiring a cleaning service that specializes in gutter repair and maintenance is your best option. For starters, they are trained in the proper technique for cleaning out clogged gutters. They also have the equipment necessary to complete the job safely and efficiently. In short, a professional service is the best choice for routine gutter maintenance and cleaning.

Contact a Professional Today

Ignoring clogged gutters can lead to disastrous and expensive damage. That is why you should hire a professional gutter cleaning service to handle the situation before any problems crop up.